At the Maxell Group, one of our basic management policies is to pursue enhanced medium- to long-term corporate value through the implementation of management measures that reflect the viewpoints of all stakeholders, including shareholders and other investors, customers, and employees.
 Accordingly, we will expedite both management decision-making and operational implementation while simultaneously strengthening oversight systems, and thereby strengthen corporate governance.
Strengthening Compliance and Fostering Ethical Awareness
Compliance Management System
The Maxell Group is constantly working to strengthen its compliance system in order to realize its basic philosophy of "ensuring fair and transparent corporate activities" by establishing "Maxell Group Codes of Conduct" which is commonly applied within the Maxell Group. Specifically, we have established a Compliance Management Committee and are working to establish a system to strengthen compliance within the Maxell Group.
The committee is chaired by the director who is in charge of risk management, and is composed of directors and executive officers in charge of sales, procurement, development, finance, general affairs, and IT, and head of legal and internal auditing. In addition, the committee is held regularly (at least twice a year) with the president and full-time Audit and Supervisory Committee member as observers.
The committee deliberates and decides on policies for responding to issues that need to be addressed, including issues related to compliance promotion activities and corporate ethics activities, including education, issues that need to be addressed through audits of each business division and domestic and overseas Group companies, and matters related to compliance violations, and reports the results of these activities.
 The Committee also establishes compliance programs to be implemented by employees on a daily basis, mainly from the perspectives of "prevention of violation of competition laws," "prevention of bribery," and "prevention of antisocial transactions," and conducts regular audits to confirm the implementation of these programs. Each business division and group company in Japan is audited once a year, and overseas group companies are audited once every two years. The audits include on-site visits to check various books of accounts and the contents of business e-mails, as well as interviews to confirm whether or not there are any contacts with competitors or public officials.
 Since 2016, the Maxell Group has designated the general manager of each business division and the president of each Group company as the compliance promotion manager, and at the same time, has assigned a compliance promotion officer to each business division and Group company as a secretariat. Each compliance promotion officer is responsible for disseminating and implementing various compliance-related measures decided by the Compliance Management Committee at the business headquarters and Group companies under his/her control.
They are also obligated to take appropriate measures, such as establishing operational procedures to instill compliance awareness in employees and prevent compliance violations.
 The activities of the Compliance Management Committee as described above are reported once a year at a meeting of the Board of Directors through the Internal Control Committee, which oversees all committee activities of the Maxell Group.
Anti-Bribery
In the past, the Maxell Group has been implementing anti-bribery initiatives in relation to civil servants as well as non-civil servants. Furthermore, in October 2021, the Maxell Group Anti-Bribery Guidelines were established with the aim of continuing to maintain fair relations with society by complying with applicable bribery-related laws and regulations in all countries and areas involved in the business activities of the Maxell Group and acting in a highly ethical manner.
The guidelines stipulate 8 specific action guidelines, including the prohibition of facilitation payments. All employees of domestic and overseas Group companies learned the contents of the guidelines through e-learning, etc. (3,561 employees learned).
In addition, regular audits of domestic and overseas Group companies are conducted to check for any violations of the guidelines through interviews and on-site checks of the contents of books and ledgers, and we will continue working to prevent corruption in all forms, including bribery.
Export Control
 With regard to security trade control, the Export Control Committee conducts accurate judgments on classification and rigorous application and user screenings (catch-all control screenings) in order to prevent the diversion of its products to weapons of mass destruction and ordinary weapons, and to comply with the relevant laws and regulations. In November 2014, we acquired a special general comprehensive license*, and we will continue to strive for responsible self-management.
* Special general comprehensive license: A system under which a corporation submits its internal rules on export controls and related information to the Ministry of Economy, Trade and Industry, which then provides bulk licenses for a combination of certain destinations and items that would previously have required individual approval.
Compliance and Ethics Education
Compliance and Ethics Education Activities for All Group Employees

(including temporary employees, part-timers, etc.)
 Since 2009, the Maxell Group has designated October of each year as "Corporate Ethics Month" and conducts global Corporate Ethics Month activities in order to become a company that is trusted by and a role model for society in all of its corporate activities around the world, such as conducting honest and fair business, protecting the environment, ensuring sound relationships with society and public officials, respecting human rights, and ensuring a good work environment free from power harassment and sexual harassment. Specifically, Maxell distributes compliance messages from the President in the local languages of each country, conducts e-learning programs on themes such as "prevention of violation of competition laws," "prevention of bribery," "prevention of antisocial transactions," and "prevention of insider trading," holds "workplace discussion meetings," and invites outside lecturers to give "compliance lectures" and keep attendance record.
 As a new initiative in fiscal 2022, we distributed a "compliance card" for employees. Employees can use the internal reporting contact points printed on the cards, and can also refer to the "Maxell Group Codes of Conduct" on their smartphones and other devices by following a URL (via a QR code).

Compliance education as a part of education by job level


 In addition to compliance and ethics education for all employees (including temporary employees, part-timers, etc.), we conduct compliance education for all new employees and newly appointed managers and already appointed general managers or managers according to their positions. Compliance education is provided to top management through direct lectures by attorneys and outside experts.
※Number of participants in compliance education and activities in Japan
over the past three years (total number of people)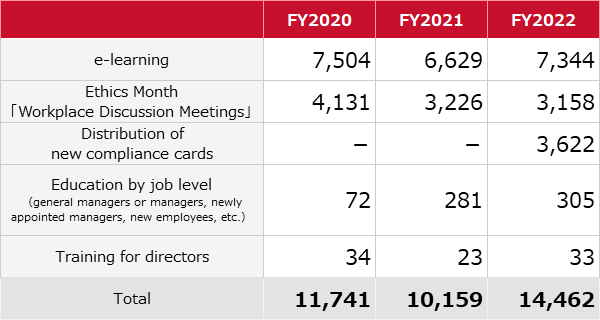 ※Number of participants in overseas compliance education and activities
over the past three years (total number of people)

Establishment of Internal Reporting Desk Independent from Management
 The Maxell Group has established the "Maxell Compliance Helpline" as an internal reporting system to recognize illegal and fraudulent activities at an early stage and enhance the self-purification capabilities within the organization.
To promote compliance management, we have also established a whistle-blowing hotline to an attorney who is independent from management as a contact point for cases that are difficult to investigate internally. Furthermore, we have already established a contact point that allows employees of overseas Group companies to report directly to us in each country's language, and the internal reporting system is permeating globally. There were 13 internal reports in fiscal 2022, but there were no internal reports in relation to a serious violation of law, etc..
Corporate Governance Guidelines・Report